In this section
TIMBUS Partners










Digital Preservation Sustainability on the EU Policy Level
Details

Last Updated on Tuesday, 21 October 2014 08:32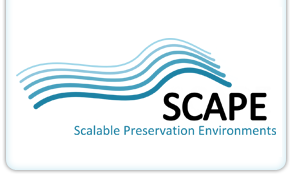 Digital Preservation Sustainability on the EU Policy Level
Workshop organised jointly by APARSEN and SCAPE in connection with Digital Libraries 2014 (DL2014)
http://www.scape-project.eu/events/25/digital-preservation-sustainability-on-the-eu-policy-level
Monday 8 September 13.00 BST
REGISTRATION IS FREE:
http://www.eventbrite.com/e/workshop-digital-preservation-sustainability-on-the-eu-policy-level-tickets-12163500357
Angela Dappert of DPC presents TIMBUS and Sustainability with a 1-Minute Poster Presentation and a Clinic Session
Workshop Objectives
The main objective of the workshop is to provide an overview of solutions to challenges within Digital Preservation Sustainability developed by current and past Digital Preservation research projects. The event brings together various EU projects/initiatives to present their solutions and approaches, and to find synergies between them. A special focus will lie on SCAPE (Scalable Preservation Environments), which will have its final project presentation at this event.