In this section
TIMBUS Partners










New staff member joins the DPC
Details

Created on Wednesday, 08 January 2014 13:25
Last Updated on Tuesday, 21 October 2014 08:32
The Digital Preservation Coalition is delighted to announce that Paul Gooding will be joining the DPC as Project Officer for the TIMBUS project in January 2014. Paul will be the sixth member of staff, enabling the coalition to provide even more services to its members.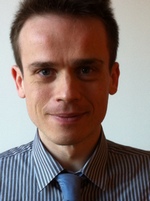 Paul will take on this role which helps DPC members contribute to and participate in the TIMBUS project. He joins the DPC from University College London where he is currently working on a PhD study into the impact of large-scale newspaper digitisation upon researchers and libraries. Paul holds an MA in Library and Information Studies from UCL and has previously worked as a researcher and librarian for BBC Sport, where he was involved in a project to create a digital archive of the corporation's audio-visual sporting materials, as well as providing research and library services at a number of major sporting events. He has also provided consulting services as principal investigator on a website usability project for the Wellcome Library.
Paul brings a wealth of experience in communications, training in business and academic contexts, and supporting methodologies and technologies, such as AV editing, web technologies, blogging, and lecturing. Paul will be based in the DPC office in London located within the British Library.